CITTA 9th ANNUAL CONFERENCE ON PLANNING RESEARCH
University of Coimbra, 18th November 2016
The Economic and Social Impacts of Planning and Transport Research
Venue
Department of Civil Engineering – Polo II – Coimbra
Auditório Laginha Serafim
Theme of the conference
The ultimate goal of applied research is to promote economic development and social welfare. This means that its impact is to be felt in all kinds of organizations, from large and small companies to NGOs and to central and local administrations.
The theme of this year's CITTA Conference is the economic and social impacts of the research conducted in Portugal and the European Union in centers focusing in Spatial Planning, Environment Policy and/or Transport Planning and Engineering. In line with this theme, the main objective of the conference is to analyze how research activity in these fields is responding to societal needs, as well as how it should be conducted to tackle current and future challenges. Despite the focus is naturally put on Portugal, it is also an objective of the conference to discuss the research problems posed by the Planning and Transport domains in other European Union countries.
Potential contributors to the CITTA Conference should submit an abstract of up to 300 words  to oxana@uc.pt summarizing the work to present in the template available here. Contributions describing research carried out in the framework of doctoral or post-doctoral projects under contract or in collaboration with industrial organizations or administrative entities are especially welcomed.
Important Dates
Abstract submission deadline – 20th October 2016
         Submit to oxana@uc.pt in the template available  here
Notification of acceptance/rejection – 31st October 2016
Author registration deadline – 10th November 2016
Conference: 18th November 2016
Keynote Speakers
Ennio Cascetta - University Federico II in Naples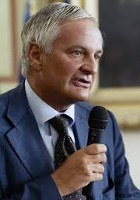 Coordinator of the Mission Group for Strategic Transport Planning of the Italian Ministry of Transports. Professor of the University Federico II in Naples.
Previous activities include 10 years of Advisor for Transport of the Government of the Campania Region, a period during which the transport system of Campania and particularly of that of Naples was profoundly improved. Author of a vast scientific oeuvre, including one of the key transport systems books ("Transport Systems Analysis: Models and Applications", Springer).                                                                                                                                                                                                                                                                                                                                                                                                                                                                                                                                                            
Paulo Ferrão - IST, University of Lisbon
President of the Foundation for Science and Technology (FCT). Professor of IST, University of Lisbon. Director of the MIT Portugal Program and of IN+ Center for Innovation Technology and Policy Research until starting his mandate as President of FCT.
Coordinator of the Urban Solid Waste Management Plan 2020. Author of the influential book "Sustainable Urban Metabolism" (MIT Press) and of a large array of publications in top scientific journals.                 
Organizing Committee
| | | | | |
| --- | --- | --- | --- | --- |
| | | | | |
| Oxana Tchepel | Arminda Almeida | Sara Ferreira | Susana Freiria | Vitor Oliveira |
| CITTA-UC | CITTA-UC | CITTA-UP | CITTA-UC | CITTA-UP |
| (Chair) | | | | |
Scientific Committee
António Pais
Antunes
Eduarda Marques
da Costa
Eduardo Anselmo
de Castro
Isabel Breda
Vázquez
Lúcio Cunha
Luis Picado
Santos
Paulo Pereira
Paulo Pinho
Rui Póvoas
CITTA-UC
CEG-UL
GOVCOPP-UA
CITTA-UP
CEGOT-UC&UP
CESUR-UL
CTAC-UM
CITTA-UP
CEAU-UP
(Chair)