The conference will be held at the Faculty of Engineering, University of Porto.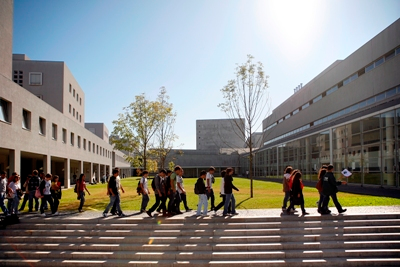 Wireless Connection
During the conference, at the Faculty of Engineering, you can have access to wireless.
To access the network:
Click on the network connection icon available on the lower right corner of the screen (Windows) or click on the wi-fi icon available on the upper right corner of the screen (Mac).
Select "feup.conferencias" network and press "Connect"
Open a internet browser (i.e. Chrome, Firefox, etc) and if a message appears on the screen, select the "Proceed to website" option
Click "login" and enter the supplied credentials:  (To be available only in the day of conference)
Login:
Password:
The city of Porto
Porto has been elected Best European Destination in 2017
- follow the link: http://www.europeanbestdestinations.com/destinations/porto/
Accommodation
The conference venue is close to a large number of accommodation possibilities in all price ranges.
Below you can find several sites with some hotels & guest houses and suggestions for staying in Porto.
European Best Destinations - Hotels
Oporto Cool site - Staying Cool
Hotels located in the city centre (and close to a light-rail station)
Hotel Infante Sagres – 5 *
Nearest Metro Station: Aliados (2 minutes walking distance)
http://www.hotelinfantesagres.pt/
Hotel Teatro – 4*
Nearest Metro Station: Aliados (2 minutes walking distance)
Pestana Porto Hotel (World Heritage Site) – 4*
Nearest Metro Station: São Bento (15 minutes walking distance)
http://www.pestana.com/pt/pestana-porto-hotel/pages/home.aspx
Grande Hotel do Porto – 3 ***
Nearest Metro Station: Aliados (5 minutes walking distance)
http://www.grandehotelporto.com
Moov Hotel Porto Centro - 3 ***
Nearest Metro Station (10 min walking distance)
http://www.hotelmoov.com/en/hoteis/moov-hotel-downtown-oporto/
Porto Antas Hotel – 3 ***
Nearest Metro Station: Combatentes and the Estádio do Dragão (5 minutes walking distance)
http://www.portoantashotel.pt/en/hotel-contacts.html
Hotels located in the Boavista area (and close to a light-rail station)
HF Ipanema Porto – 4****
Nearest Metro Station: Casa da Música (10 minutes walking distance)
http://www.hfhotels.com/porto/isuf2014
HF Fênix Porto – 4****
Nearest Metro Station: Casa da Música (5 minutes walking distance)
http://www.hfhotels.com/porto/isuf2014
HF Tuela Porto – 3 ***
Nearest Metro Station: Casa da Música (5 minutes walking distance)
http://www.hfhotels.com/porto/isuf2014
Hotel da Boavista - 3***
By the Seaside
http://www.hotelboavista.com/en/
Hotels located near FEUP
Hotel Axis Porto – 4 *
Distance from the Congress Venue: 20 minutes walking distance from FEUP
http://www.axishoteis.com/pt/Axis-Porto-Business-Spa/Hotel.aspx
Hotel Ibis S. João – 3 *
Distance from the Congress Venue: 5 minutes walking distance from FEUP
http://ibishotel.ibis.com/pt/hotel-3227-ibis-porto-sao-joao/index.shtml
Contacts
Joana Ribeiro Santos
E-mail:citta2019@fe.up.pt
Address: Rua Dr. Roberto Frias, s/n,
4200-465 Porto - PORTUGAL
Phone: +(351) 225081505